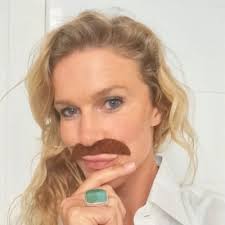 0 Coments
08/11/2018
by Marketers Group
On the main page of MOVEMBER, the story of Charlotte Coonell, Mo Sista (that is, a woman collaborating with the aims of MOVEMBER) is collected.
There she explains the drama of the illness and death of her beloved father. In 2007 he was diagnosed with prostate cancer. He was a very strong and incredibly healthy man. It was treated with surgery and hormones but in 2012, the cancer spread to the bones. And to lungs. He was treated with chemotherapy. The family felt devastated. The patient maintained great optimism.
Charlotte felt the need to do something, seeing a loved one suffering so much. His father was going to lose his mustache because of chemotherapy.
But she could wear an artificial mustache. And she moved with her friends to raise funds against prostate cancer.
The eight years since the diagnosis have been the best. My parents traveled a lot. He was the grandfather of my brother's children. My father and I surfed and other sports. We enjoy every moment as a family.
It was fine until the end. Then it was when he could not walk because the tumor had invaded his skull and pressed his brain. On November 20 he died.
Prostate cancer not only took her father but her best friend.
She became pregnant the week they lost the patient. She would like to imagine her son growing up in a world where cancer would be healed. In a world in which the way his father spoke freely about his illness was not unique, but the norm. If he lost his battle, he lived 8 years thanks to his early diagnosis.
He has inspired much of her life and during the month of November he inspired her to wear a mustache.
FEFOC wants to highlight, from this moving story, the following: 1. The essential collaboration of women in the fight against prostate cancer.
Precisely FEFOC launches its first group of "Women against prostate cancer" this month. 2. The desire for a world for their children in which this disease does not exist or is cured. FEFOC respectfully adds to Charlotte's healing wishes that we know the causes of prostate cancer as soon as possible in order to eliminate it. Healing yes, of course, but also knowledge of the causes and their prevention. FEFOC deeply appreciates the powerful and effective testimony of Charlotte Connell.